1x1 – Episode 1
When they were orphaned, goofy rascal Ben Fox broke away from his uptight sister Kate, who became a single but devoted mother to Maddie. Ben, years ago often drops by, using Kate's compulsively neat home as base for his crazy plans and simply delighting them. Now Ben hears his local first love, Darcy, is getting married and decides to take his last chance to win her.
Gesehen von 2 Usern
1x2 – Episode 2
Kate lies about her residence in order to get Maddie into a better school district, but when her plan falls apart, she must admit the truth to Maddie's principal (Alan Ruck).
Gesehen von 2 Usern
1x3 – Episode 3
Ben and Kate find a closed envelop left by their late father, containing questions for a traditional Fox family scavenger hunt, so they revive the practice. While Kate and BJ throw themselves on it as if their lives depended upon winning, Ben is happy to let his sister. Until Tommy points out the prize is not as meaningless as Ben assumed.
Gesehen von 2 Usern
1x4 – Episode 4
Hearing his first love Darcy is moving into 'their' dream house with her husband, Ben wants to steal the tree he always imagined carving a canoe from to give her a Viking burial. BJ comes along and insists to push Ben's closure fantasies, however awkward for all of them. Ben ignores Kate's expressed, annual wish not to celebrate her birthday, deciding she should finally make up her 21st, when she let motherhood take over. Inviting her college buddy Molly initially changes her mind, but the two sneak off from the surprise party and don't see eye to eye anymore about ...
Gesehen von 2 Usern
1x5 – Episode 5
Ben is not amused that Kate makes a drama of every little injury Maddie incurs during his countless capers. He makes fun of her claim to have contingency plans for every emergency and sets out to prove with Tommy's help that she can't plan for every eventuality. Meanwhile, the arrival of Ben's partner in crime Louise tends again to bring out the worst in him. BJ's bar is being checked up by wacky boss Buddy, who invites himself at home.
Gesehen von 2 Usern
1x6 – Episode 6
It's Halloween. Ben bets he's scared less easily then Kate, who believes to be prepared for everything, chaperoning Maddie's trick or treat, but danger lurks at home. Ben decides, when Tommy reacts allergically hysterical to candy, to 'follow suit' by getting high. BJ insist on princess costumes, undoing years of child-frustrating tradition.
Gesehen von 2 Usern
1x7 – Episode 7
Ben urgently wants a job to make niece Maddie proud at her school's career day, but finds no useful avenue in the record of his countless failed projects with Tommy, and proclaiming himself wine merchant fares no better. BJ shamelessly goes after hunky neighbor Walter, while the bar staff finally scolds her rudeness and inability to remember a single colleague's name. Ben still makes it to career day.
Gesehen von 2 Usern
1x8 – Episode 8
Will pushes Kate out of her comfort zone.
Gesehen von 2 Usern
1x9 – Episode 9
Kate's reaction to Will's expression may jeopardize their relationship.
Gesehen von 2 Usern
1x10 – Episode 10
Ben desperately searches an excuse to criticize Will, as any lover Kate ever had or rich heir, but can't find any fault. Will wants to take her on a country lodge trip and counters Ben's objections and family camping alternative by inviting him along to camp in the garden with Maddie. Will refuse to put up with Ben's shenanigans forever, Kate to part with her brother.
Gesehen von 2 Usern
1x11 – Episode 11
Kate takes Maddie and her "B-Squad" classmates on a special trip.
Gesehen von 2 Usern
1x12 – Episode 12
Ben tries to get his new business idea off the ground.
Gesehen von 2 Usern
1x13 – Episode 13
Although CEO Vera Everson's lover, Ben can't prevail over her college graduates flood of changes to his rail Mail concept, so he walks out. Vera drops by to make up romantically, but a new idea closes their business rift. After Will dumped Kate, she seeks distraction in lance's cooking class, which arouses Will's jealousy.
Gesehen von 2 Usern
1x14 – Gone Fishin'
Ben and Kate panic, complete with cleaning frenzy, when their boasting to have nothing left to do inspires Maddie telling grandpa Randy Fox he can finally visit again. Desperate to pretend she's making something of herself, drop-out Kate signs up as volunteer, but isn't fit for anything and even messes up counseling single teenage mothers. Ben exchanges sneers with dad, whole he reproaches never having taught him man - or other stuff. They plan a picnic and fishing, but end up staking out someone who 'needs a lesson', which only they sort of learn the hard way.
Gesehen von 2 Usern
1x15 – Father-Daughter Dance
Ben's father Randy asks his help with the business, for Kate steals the quality-time and dumps on her brother to organize the annual PTA dance at Maddie's school. Ben now wants to out-stage her, but can't stretch the petty budget accordingly, so principal Caruthers steps in.
Gesehen von 2 Usern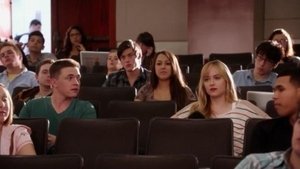 1x16 – Ethics 101
Ben is not amused when Vera waves his pre-anniversary treats as infantile. Yet his interpretation of an open relationship works out even worse. Kate is determined not to waste her second shot at college like the first time, focusing on boys, so she turns down any 'foppish offer'. Instead, she gets involved with her handsome professor ethics, who proves far from perfectly ethical.
Gesehen von 2 Usern
Quelle:
themoviedb.org