5x1 – Episode 1
In the season premiere, the staff must relocate to an American Army base in Japan. STEVE AGEE (Jimmy Kimmel Live), JON HAMM (Mad Men) and KEEGAN MICHAEL KEY (MADtv) guest star.
Gesehen von 1 User
5x2 – Episode 2
When the son of Nurse Dori (ZANDY HARTIG) witnesses a murder, Detective Chance Briggs (NICK OFFERMAN) arrives to solve the crime ... but he doesn't count on falling in love.
Gesehen von 1 User
5x3 – Episode 3
A night of entertainment on the base is threatened by a plane crash -- until a survivor offers help. Also, Owen doesn't get stuck in a time loop.
Gesehen von 1 User
5x4 – Episode 4
The day has come for Cat and Michael's (JUSTIN KIRK - Weeds) nuptials. The doctors gather at Cat's vacation house, until two shocking events threaten to dampen the celebration.
Gesehen von 1 User
5x5 – Episode 5
The doctors fight to save the hospital ward that houses ailing imaginary friends ... and also has great cell reception. BRIAN DOYLE-MURRAY, JAY JOHNSTON guest star.
Gesehen von 1 User
5x6 – Episode 6
Lola is recruited by an elite, secret government task force, but a ghost from her past threatens to compromise her mission. Recurring guest star JORDAN PEELE (MADtv, Key and Peele) appears.
Gesehen von 1 User
5x7 – Episode 7
Sy's plan for a costumed "theme day" on the base becomes more complicated than expected. BETH DOVER, JAMES URBANIAK and STEVEN WEBER guest star.
Gesehen von 1 User
5x8 – Episode 8
To get rid of Owen's perm, the doctors hatch a plan involving a haunted house and Omni magazine. Meanwhile, Blake learns how Glenn is so good at surgery.
Gesehen von 1 User
5x9 – Episode 9
A famous Army hospital critic visits the base on the same day as a scheduled wine tasting. WILLIAM ATHERTON (Die Hard) guest stars.
Gesehen von 1 User
5x10 – Episode 10
Blake's abduction presents Owen with a chance to boost ratings on his medical talk show.
Gesehen von 1 User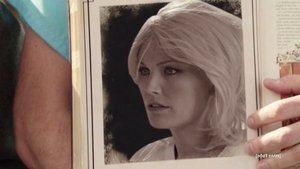 5x11 – Episode 11
Derek Childrens vows to regain control of the hospital from Sy. Guest stars include JON HAMM (Mad Men), JOHN GEMBERLING (The Heart, She Holler) and IAN ROBERTS (Reno 911!).
Gesehen von 1 User
5x12 – Episode 12
DAVID WAIN's personal documentary about his lifelong friendship/rivalry with Childrens Hospital cast member Just Falcon. KERRI KENNEY (Reno 911!), SAM TRAMMEL (True Blood) appear.
Gesehen von 1 User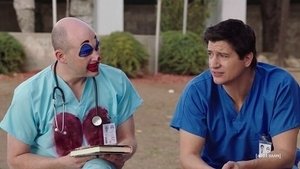 5x13 – Episode 13
The doctors' trip to Japan comes to a shocking climax involving birth, death, sex, war, and opera.
Gesehen von 1 User