1x1 – Worzel's Washing Day
As John, Sue and Mr. Peters are all driving to their new home, a Romany Caravan at Scatterbrook Farm, John sees a Scarecrow in a field and claims to see it move. Later John persuades his sister to go back to the field, Ten-Acre field, to have a closer look at the Scarecrow, but once there, it starts raining. With no other option, other than to get soaked, John asks the Scarecrow if they can lend his umbrella, to which the Scarecrow replies with a deep OO - AARR! sending the terrified children running for home. Later that evening Worzel turns up at Scatterbrook to claim back his umbrella, and anything else he can find.
Gesehen von 1 User
1x2 – A Home Fit for Scarecrows
During a torrential downpour Worzel leaves his post and heads for the cosy warmth of John and Sue's Romany Caravan at Scatterbrook. Unfortunately John won't let him in. even though Worzel promises to teach them Worzelese, the Scarecrow language, so instead Worzel shelters in the old barn where he keeps his heads. After a few minutes John and Sue join him and, as he has no furniture, promise him an old chair that Mrs. Braithwaite is throwing out. The next day the Village wakes up to a crime wave, Worzel has been up since cock's crow stealing furniture and has set up home in one of the back fields.
Gesehen von 1 User
1x3 – Aunt Sally
There is a Village fete on and there is one attraction that Worzel can't miss, an Aunt Sally. However before he can go he must solve a problem, who will take his place in Ten-Acre field whilst he goes to the fete? As luck would have it Mrs. Bloomsbury - Barton, the local 'Lady of the Manor', happens to be passing and Worzel decides to ask her if she'll swap with him for the afternoon, she, however thinks Worzel is about to attack her and so runs off screaming, leaving her hat behind. In the end Worzel turns up at the fete wearing, not only Mrs. Bloomsbury - Barton's hat, but also Mr. Peters' brown suit, which he has stolen earlier. Unfortunately Worzel is spotted by Mrs. Bloomsbury - Barton and is chased around the fete until John and Sue gesture him to hide in a tent to evade his pursuers. Once inside the tent Worzel discovers he has company, Aunt Sally.
Gesehen von 1 User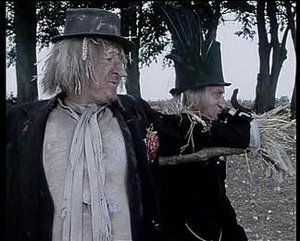 1x4 – The Crowman
Worzel wants a wife and so he asks The Crowman to make him a 'handsome head', spotting an opportunity for Worzel to learn a lesson the Crowman agrees. He tells Worzel that, in return for one of his own heads, he can have the loan of a head which he has made for a 'decorative scarecrow' ordered by Mrs. Bloomsbury - Barton. The next day Worzel turns up at Mrs. Bloomsbury - Barton's Hall to pick up his new hansdome head from the Crowman who is working there. However, he is not the only one working there that day. Mr. Peters is also there, re-wiring the hall, and chaos quickly ensues when Worzel is asked to help him.
Gesehen von 1 User
1x5 – A Little Learning
After losing his arm yet again Worzel is sick of people like John Peters calling him stupid, so he sets about the arduous task of locating his 'clever head'. After searching high and low Worzel finally remembers where he's hidden it, in the chimney of the local school, the one that John and Sue go to. Worzel gets on the school roof and puts on his clever head. However getting down is not so easy and Worzel soon begins to draw attention to himself by making a racket. Miss Jamieson, John and Sue's schoolteacher is so bothered by this noise that she goes out to investigate. When she sees Worzel she asks him what he's doing on the roof and Worzel, feeling cocky in his clever head, demands a 'satisfactory question'. The schoolteacher fires difficult questions at Worzel and, to her amazement, he gets them all right. She decides to tell Mr. Foster, the HeadMaster, that she has discovered a 'genius' on the school roof.
Gesehen von 1 User
1x6 – Worzel Pays a Visit
As Usual Worzel is up and about the Village bright and early and on his rounds stops to steal a pint of milk, for his Robin red - breast, and a News-paper, with Aunt Sally's picture in it. Later on, as Sue is reading Worzel the article, about Aunt Sally being stolen at the Village Fete, Mr. Braithwaite bursts in the barn and sends John and Sue to Mrs. Bloomsbury - Barton's with a box of apples. Whilst there the two see that Aunt Sally is there also, working as a maid. On their return to Scatterbrook Sue rushes to Ten - Acre field to tell Worzel where Aunt Sally is and, as soon as he can, he goes to the hall to see her.
Gesehen von 1 User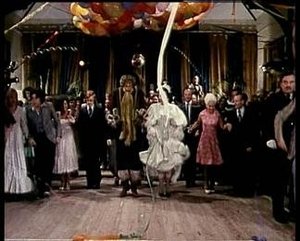 1x7 – The Scarecrow Hop
Mrs. Bloomsbury - Barton sacks Aunt Sally and, as she is homeless, she turns up at Worzel's barn. As soon as she arrives she starts telling Worzel, Sue and John about where she is going to go next, this prompts John into saying how boring the village is. Sue protests and brings up the fact that there is a Village dance on that evening and Aunt Sally and Worzel decide to go. Before that however they both agree that they need clothes to wear to the dance and so visit the local museum to pinch some. At the dance Worzel finds the music boring and so asks the band for a request, 'The Scarecrow Hop', which is a roaring success.
Gesehen von 1 User