1x1 – iPilot
Carly is a young teenager living in Seattle. When her friend Freddie accidentally leaks a video of her and her best friend Sam onto the Internet, they decide to create an online web show.
Gesehen von 7 Usern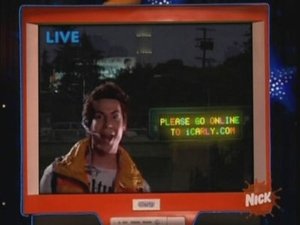 1x2 – iWant More Viewers
Carly and Sam compete with Freddie and Spencer to see which team can increase the number of hits on Carly's website, using the most elaborate techniques available to each team. The losers have to touch the wart of the Bushwell Apartment doorman, Lewbert - a man that Carly & Sam are convinced is the meanest man alive. Judging from their hidden camera in the lobby of Carly's apartment building, it's easy to understand why they hate him.
Gesehen von 7 Usern
1x3 – iDream of Dance
After enduring Ms. Briggs' lesson on traditional Scottish folk dancing, Carly and Sam call for their viewers to send videos of their own dance routines. Soon enough, the site is filled with so many video files for them to review that it starts to go to their heads.
Gesehen von 7 Usern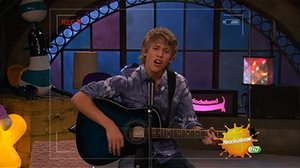 1x4 – iLike Jake
Jake Krandle, one of the cutest boys at Ridgeway Middle School breaks up with his girlfriend, and all the girls at school want a piece of him. Carly thinks she'll get just that when she invites him on her web-show to perform some songs he wrote. But during a rehearsal, Jake is found to be a horrible singer, and Carly has to struggle to convince an already jealous Freddie to digitally enhance his voice.
Gesehen von 7 Usern
1x5 – iWanna Stay with Spencer
Carly gets caught in a custody battle between her brother and grandfather.
Gesehen von 7 Usern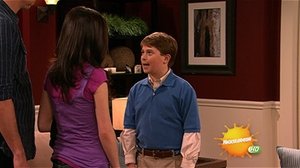 1x6 – iNevel
A tip from a potential fan prompts Carly to seek a review of her Web site by another site called Nevelocity.com, one of the major tastemakers for tweens on the Internet. Its Web master turns out to be Nevel Papperman, a creepy and slightly effeminate 11-year-old boy who seeks the same thing from Carly that Freddie has been trying to get since he met her. When she spurns his advances, he trashes the show. The only thing that can save it is for Carly, Freddie, and Sam to persuade him to write an honest review.
Gesehen von 7 Usern
1x7 – iScream on Halloween
Carly, Sam, and Freddie shoot their Halloween web cast from an apartment that is rumored to be haunted. When creepy things start happening, the friends worry that the ghost rumors just might be true. Meanwhile, Spencer forgets to buy Halloween candy, and he ends up giving children odd and random objects, which leads them to the point of rolling him down the ocean with him inside a giant pumpkin that he carved. During the show, Sam shows viewers how to pull Halloween pranks using masks.
Gesehen von 7 Usern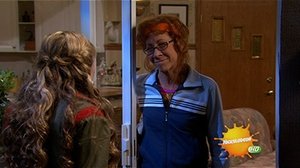 1x8 – iSpy a Mean Teacher
For a potential web-cast, Carly and Freddie try to find out if Mrs. Briggs' hostility extends beyond the classroom, and end up getting trapped in her house.
Gesehen von 7 Usern
1x9 – iWant to Date Freddie
Freddie finally gets a girlfriend, but she's an apparent fan of Carly's rather than Carly herself.
Gesehen von 7 Usern
1x10 – iWant a World Record
Carly and Sam try to break the world record for the longest web-cast.
Gesehen von 7 Usern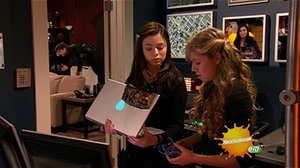 1x11 – iRue the Day
Nevel Papperman(see "iNevel," Episode #1.6) is back, and instead of trashing iCarly in his articles, he has directly sabotaged the website itself. Meanwhile Spencer persuades the Plain White T's to perform on Carly's show as a favor for preventing lead singer Tom Higgenson from being hit by a falling sign at the mall. But how do they expect the band to perform on a show nobody can see?
Gesehen von 7 Usern
1x12 – iPromise Not to Tell
A ridiculous technicality costs Carly her streak of straight A's. The next day as Sam is being punished, she manages to fix Carly's grades with the school computers(and for some reason, Freddie's), and makes her promise not to tell anybody. Because Sam's scheme involves Freddie, Carly decided to tell only him about it, and Carly can't decide whether the guilt over Sam's amateur hacking or Freddie's sophisticated effort to undo the fix will gnaw away at her conscience first.
Gesehen von 7 Usern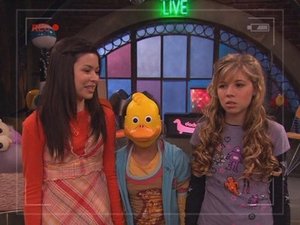 1x13 – iAm Your Biggest Fan
When the iCarly crew invite their "biggest" fan, Mandy, to the set of the show, they realize that she is more than they bargained for. Meanwhile, Spencer joins a rock band.
Gesehen von 7 Usern
1x14 – iHeart Art
Spencer is demoralized when his artistic idol Harry Joyner gives a bad review of his work. It's up to his little sister and her web show to bring him out of his funk and keep his artistic ambitions going, otherwise he may give them up for good. Freddie makes a bet with Sam that she can't go through life without insulting him, which is driving her almost as crazy as her mother.
Gesehen von 7 Usern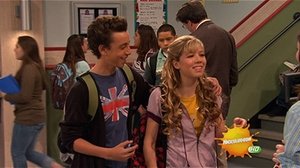 1x15 – iHate Sam's Boyfriend
Love becomes a distraction for the iCarly Crew once again, as a boy named Jonah monopolizes Sam's time.
Gesehen von 7 Usern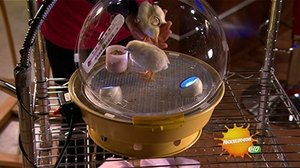 1x16 – iHatch Chicks
Carly and Sam decide to hatch baby chicks for a science project. However, the chicks all escape and get lost in the apartment. Carly, Sam, Freddie, and Spencer learn that if they don't find the chicks in time, the baby chicks will die, and must search frantically before time runs out. In the end, they find all the chicks and they survive.
Gesehen von 7 Usern
1x17 – iDon't Want to Fight
On the fifth anniversary of their friendship, Carly gives Sam a one-of-a-kind iCarly T-Shirt as a gift. Desperate for an attempt to return the favor, Sam tries to buy a pair of hard-to-find concert tickets for Carly's favorite band from a scalper. With no other means to purchase the tickets, she sells him the shirt and puts both Carly's show and their friendship at risk.
Gesehen von 7 Usern
1x18 – iPromote Techfoots
Carly, Sam, and Freddie get a cash-boost for their show when a shoe company gets them to promote a trendy new pair of shoes. The trouble is that the shoes are extraordinarily bad, and the backlash they get at school and on the web hits them hard. It doesn't help that they find themselves unable to break out of their contract with the shoe company... or are they?
Gesehen von 7 Usern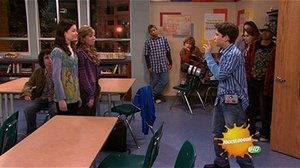 1x19 – iGot Detention
Plans for the landmark 50th web cast of iCarly are at risk of being curtailed when Sam gets detention. Realizing she can't do the show without her co-host, Carly and Freddie try to get in trouble themselves, so they can do the live web cast from their school's detention room. However, deliberately trying to get detention proves to be far more difficult than Carly can imagine, and even harder for Freddie.
Gesehen von 7 Usern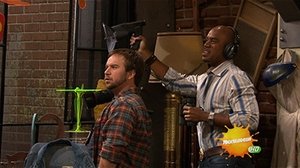 1x20 – iStakeout
The Seattle Police Department uses Carly and Spencer's apartment for surveillance when a suspected video pirate is seen in the background of an iCarly webcast. One of the cops turns out to be a former bully that Spencer knew at summer camp, who sadly hasn't change that much since he was a kid.
Gesehen von 7 Usern
1x21 – iMight Switch Schools
Carly's fame draws the attention of a private boarding school, who want her to enroll as a new student.
Gesehen von 7 Usern
1x22 – iFence
Realizing that his time with Carly and Sam has become too girly(despite his lingering crush on Carly), Freddie seeks some "guy time" with Spencer, which happens to be a fencing class for which Freddie turns out to be quite the swordsman. During this period, Freddie gets caught up in the rivalry between Spencer and a snobbish posse of fencers lead by Doug Toder, and finds himself competing with him in a duel. When his fretful mother finds out, she reveals a family secret in a last-ditch effort to try to talk him out of the competition. In the meantime, Carly is forced ...
Gesehen von 7 Usern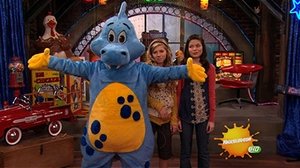 1x23 – iCarly Saves TV
A television programming director realizes that iCarly is funnier than anything his network currently has available for the upcoming fall lineup. Unfortunatley, upon acquiring the show, the network takes it further and further away from Carly's original vision, and exploits and torments Freddie more than Sam and his mother combined.
Gesehen von 7 Usern
1x24 – iWin a Date
Carly tries to set up Gibby & Shana by playing a game called "I Win A Date".
Gesehen von 7 Usern
1x25 – iHave a Lovesick Teacher
Lauren Ackerman, Carly's history teacher has become an emotional wreck after her boyfriend dumps her, and she takes her heartache out on everybody in class, including Carly. When Spencer discovers her agony during what passes for a parent-teacher conference, he decides to be her new knight in shining armor and fills the hole in her heart. Though things go smoothly for Spencer, Miss Ackerman, and her class at first, soon Spencer, Carly, Sam, and Freddie find that it's going to take a lot more than just a little loving to keep the teacher happy, and her class safe.
Gesehen von 7 Usern
Quelle:
themoviedb.org