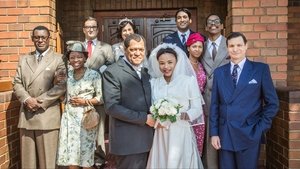 1x1 – Folge 1
Nelson sees the horror injustices, and begins his road to anti-apartheid.
1x2 – Folge 2
Know what this is about? Be the first one to add a plot.
1x3 – Folge 3
On the run, Nelson lives in hiding from the government. With non-violent protests not producing the results hoped for, a military wing of the ANC, Umkhonto we Sizwe, is created.
1x4 – Total Strategy
Imprisoned for life on Robben Island, Nelson keeps up his resistance. Meanwhile the ANC, led by President Oliver Tambo, manages to keep the international spotlight trained on apartheid.
1x5 – Brains Not Blood
The campaign to free Mandela orchestrated by an exiled Oliver Tambo gains popularity, propelling Mandela's cause and the anti-apartheid message into international acceptance.
1x6 – A New World
After twenty seven years in prison, freedom for Mandela does not guarantee a free and democratic South Africa. Nelson must face betrayals, personal heartbreak and the loss of his most trusted friend.
Quelle:
themoviedb.org