1x1 – Bei Tagesanbruch
John Dutton (Kevin Costner) versucht seine Farm zu beschützen, die größte in den USA, vor Landentwicklern, einem indianischen Reservat und Amerikas erstem Nationalpark.
Gesehen von 5 Usern
1x2 – Familienbande
Als sich der Rauch nach der Schießerei verzieht, müssen die Duttons sich mit möglichen Nachwirkungen auseinandersetzen. John (Kevin Costner) löst einen Gefallen ein und treibt einige alte Schulden ein. Jamie (Wes Bentley) trifft sich zur Schadensbegrenzung mit dem Gouverneur.
Gesehen von 5 Usern
1x3 – Keine Pferde
The Duttons deal with a painful family anniversary. Kayce saves a young girl from danger. Jamie and Beth plan their respective political careers. Rainwater makes an ominous threat to the Dutton legacy.
Gesehen von 5 Usern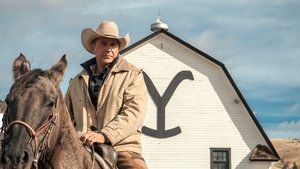 1x4 – Der Zug in die Dunkelheit
A secret about John comes to the surface; Beth shows Jenkins a rough night out; Quality time with Tate leads to a close call.
Gesehen von 5 Usern
1x5 – Heimkehr
As Kayce feels the heat from tribal police, Jamie works his legal magic; Rip recruits a new cowboy; John makes a play to keep Kayce and Monica close to home.
Gesehen von 5 Usern
1x6 – Die Erinnerung
A new partnership threatens John and the Yellowstone; Jamie ramps up his political campaign.
Gesehen von 5 Usern
1x7 – Ein Monster ist unter uns
Rip stumbles upon a dangerous and dire situation; A plan is set in motion designed to squeeze John and threaten his way of life; Monica begins a tough recovery.
Gesehen von 5 Usern
1x8 – Die Enträtselung - Teil 1
Rip faces a sheriff's investigation after his accident with the tourists, Jamie's political future comes into question, and Beth goes after Dan's finances.
Gesehen von 5 Usern
1x9 – Die Enträtselung - Teil 2
John discovers his true alliances, Rip searches for answers, Jamie's political career is threatened, Beth takes on a new role, and Kayce returns home.
Gesehen von 5 Usern
1x10 – Episode #1.10
Know what this is about? Be the first one to add a plot.
Gesehen von 5 Usern
Quelle:
themoviedb.org